Who is online?
In total there are
2
users online :: 0 Registered, 0 Hidden and 2 Guests
None
Most users ever online was
42
on Sat Oct 26, 2013 2:07 am

Hello, TRT. I have decided since our whole Club Penguin lives are based on Rockhopper, Captain of The Migrator, we could explore some interesting facts about Club Penguin's Rockhopper and the real Rockhopper! Lets start with our beloved Club Penguin friend, Captain Rockhopper. Club Penguin Rockhopper is a wealthy pirate penguin who sails to Club Penguin every 2 or 3 months abord The Migrator, (his ship). The captain brings treasures for all the lucky penguins who happen to be around for those 2 weeks, accompinied by his red puffle Yarr, of course. His ship is always docked at the beach. Captain Rockhopper used to keep a journal of his adventures, until his ship wrecked on January 17, 2008, when it collided with an iceberg. Rockhopper and Yarr were fine. This sparked the idea of the Save The Migrator Project, in whch Gary the Gadget Guy invented the Aqua Grabber to retrieve the scattered parts of The Migrator from the sea. Once all the parts were retreived, penguins gradually rebuilt the Migator. During the period the Migrator was being rebuilt, Rockhopper used his lifeboat to sail the seas. When Rockhopper returned, he was so happy that his ship had been fixed, he stored the key to his private quarters in the book room in a certain 'record of events'. His Journal was also stored in the book room. Now he posts pictures in his private quarters on his bulletin board of his latest adventure. He also lists on this board what he plans to do this time around Club Penguin. If you are lucky enough to meet Rockhopper click the winking eye on his player card to recieve a special gift from he to you. To find more about Captain Rockhopper, go to
http://clubpenguin.wikia.com/wiki/Rockhopper
or simply ask some of The Rockhopper Trackers such as Sirgamealot.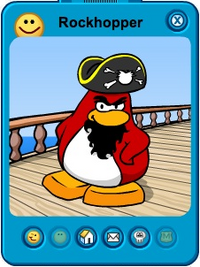 Moving on to Rockhopper Penguins. Rockhopper Penguins are part of a famliy of penguins which are called crested penguins because of brightly colored feathers of their heads. These feathers resemble eyebrows, ( hense Captain Rockhopper's eyebrows). These are the smallest of crested penguins. Rockhoppers eat Squid, Krill, And other small fish, (Yummy!) They live on most of the islands in the Antartic reigon, including Club Penguin of couse! Rockhoppers get their names because of their tendancy to hop over rocks and crevices on the shores which they live on. To find more about Rockhopper Penguins, go to
http://www.siec.k12.in.us/west/proj/penguins/rock.html
. Thanks for reading and I hoped you enjoyed this special post! ~Acdog
P.S- See The Resemblance?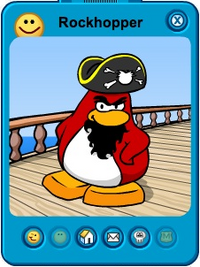 nice thread. They seem alike... somehow... HEH HEH HEH

Fair Factor

Forum Support





Age

: 23


Number of posts

: 177


Tracker Points :

4375


Registration date :

2007-11-11



I always thought that rockhopper was based on the rockhopper penguin but your right there completely based on each other

Jake

TRT Patron





Age

: 22


Number of posts

: 1391


Tracker Points :

3658


Registration date :

2008-01-06



Yep. Hmmm, would this make a good TRT newspaper section?


Similar topics
---
Permissions in this forum:
You
cannot
reply to topics in this forum